A global recycling solution
With the introduction of recycling tools on a project that ran between 2015 and 2017, the site is now classified Seveso high threshold. The plant is certified ISO 9001, 14001. Dedicated storage areas have been developed for different types of industrial wastes or products processed on this site.
Recycling capacity of non-ferrous metals can reach up to 35,000t / year.
This site specializes in the recycling of 8 non-ferrous metals:
From catalysts, metal oxides and hydroxides:
An offer adapted to metals contained
Thanks to the various pyro metallurgical tools installed on this site, we can adapt our offer to customers needs on contained:
We can mix different types of industrial waste or products to offer flexibility on chemical compositions:

up to 28% Mo content
up to 25% Ni content

On the physical aspect, we offer ingots having a total homogeneity on  each casting.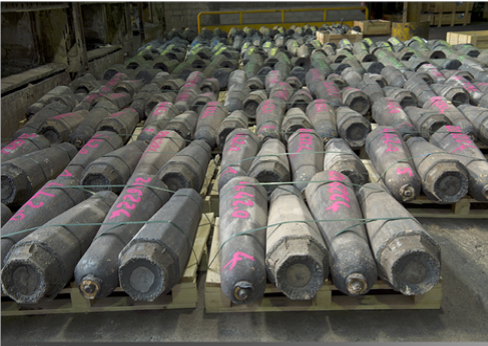 We offer our recycling expertise mainly in two markets:
| | | |
| --- | --- | --- |
| Catalysts | Alloys Feni(Co)Mo | Up to 28% Mo et 12% Ni |
| Metal oxides | Iron stainless steel - FeNi | Up to 25% Ni |
| Batteries | Alloys FeNi | 20-25% Ni |
| | | |
| --- | --- | --- |
| Catalysts | Alloys FeCoMo | Up to 28% Mo, 6% Co |
| Catalysts | Salt CaW | Up to 55% W |
Strict quality control allows us to identify and characterize the incoming raw materials and ensure a representative analysis of the outgoing products:
To meet our prefectural permit, each industrial waste will be subject to a certification of prior acceptance (CAP) by our laboratory. Other materials considered as a product will also be certified according to our measurement standards.
Once the flow has been selected, regular analyzes will be performed on each batch received.
The analyzes of the outgoing products or co generated products will be made for the sake of optimal representativeness:

For ferro alloys, from samples taken in liquid form in the furnace directly,
For other products or co products, according to a sampling procedure defined on the site.
We ensure the traceability of industrial waste:
The law specifies that "any producer of waste remains owner until their elimination"
Erasteel Recycling guarantees complete traceability to answer the administrative follow-up of waste treatment:

Waste tracking slips,
Receipt for the transport of hazardous waste,
Constraints related to the Prefectoral permit of the site.