Our priorities :
Generate zero waste by recycling processes installed on the site
Respond to demand for materials from sustainable and responsible sources
Societal & environmental commitment
Thanks to its technical expertise acquired for several years, Erasteel Recycling is positioned as an alternative to landfilling and in addition to mining on a list of 8 non-ferrous metals: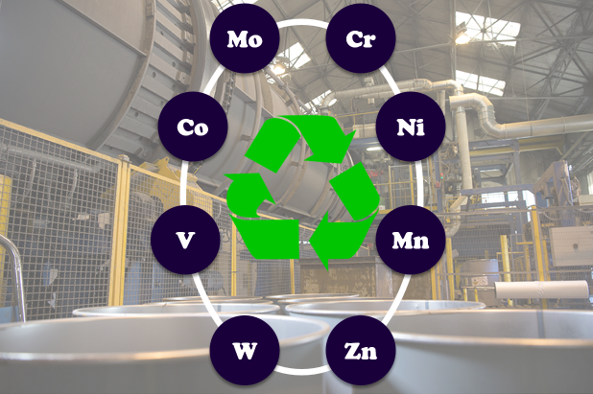 Erasteel Recycling contributes to the security of supply of the French and European economy and with a permanent concern for sustainable competitiveness.
Long-term contracts with several partners have been signed in order to guarantee a regular flow of recycling of their industrial waste and in compliance with environmental standards.
Innovative processes on a dedicated site have been developed to ensure optimal recycling efficiencies, beyond European directives and with the aim of generating zero waste.
Thanks to its know-how and the diversity of its processing tools on the same industrial site, Erasteel Recycling optimizes the processing loop of industrial waste entrusted to it, taking into account their original condition, packaging and industrial risk. For some types of waste, the valorisation of the energy potential content will make it possible to optimize the industrial process of the site.
At the ERASTEEL site in Commentry, pyrometallurgical recycling of used catalysts, metal oxides and batteries makes it possible to recover several strategic metals such as cobalt, molybdenum or nickel. These metals are then reintroduced into cycles of manufacturing new products for the internal needs of this plant or to external customers whose demand for materials from sustainable sources is growing.
We also privilege on this site a collaborative approach with our suppliers and the development of long-term partnership to ensure a regular treatment of their flow to recycle.
The integration of several pyro metallurgical treatment and filtration tools makes this site unique in Europe and achieves first-class recycling efficiencies; it is part of the logic of sustainable development at the confluence of economic and environmental issues.